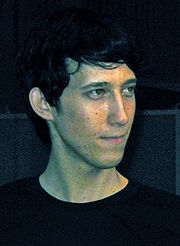 Florian Hufsky, aged 23, fellow hacker, designer, programmer, metalab member, pirate, and above all inspiration to many people, died on the 16th December 2009.
Though none of the syn2cat people had the chance to know him personally, many have expressed how they were emotionally touchedby this tragic event.
"Even though I didn't know him", someone told me, "I feel like he was part of the family; somehow, all hackers feel like a big family to me." I can only stress that this is a shared feeling and that I hope that Florian's ideas as well as his motto: "When in doubt, do it!" will live on and keep on motivating people to do what Florian achieved and aspired to in his short lifespan.
Many open questions frame his death and the shock waves of this tragedy have spread far beyond Florian's family and friends, reaching out to followers, admirers and soul mates throughout the world. We would like to express our deepest sympathy at the loss of someone who has been, and should have continued to be, an idol to many of us.
Read more on Florian on
Related Posts: