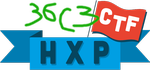 If you are planning to become a 1337 haxor or you are an renowned CyberSecurity specialist looking for an escape route during the festive period or you are just curious and want to learn more about the 'dark side' of computing then we have you covered.
Join the team that represented Luxembourg at the European Cyber Security Challenge the 28th and 29th of December 2019 to participate to the Capture The Flag (CTF) competition organised by HXP during the 36th edition of the Chaos Communication Congress.
This could be a great opportunity for you to see if you would like to be part of the CTF community that is being founded in Luxembourg and learn more about Cyber Security.
When and where
The event will take place at Level2 from 10:00 to 20:00 the 28th and 29th of December 2019 for all those that want to meet and work with the team to win the competition.
The challenges will be on-line if you prefer to work on your own.
Skills required
As CTF competitions include all sort of challenges that may require skills we don't have handy so we don't just need experts in specific fields (cryptography, reverse engineering, forensic, etc.), we also need people that are curious, willing to learn and can use their preferred search engine to help finding answers.
Equipment required
Just your laptop if you can otherwise we will provide a basic Linux laptop.
Costs involved
Absolutely nothing. Participation to the CTF is free.
You will only have to pay for the drinks and the snacks you want to consume and yes we have beer and Club Mate.
Additional information
For more information you can contact the CTF team on Discord: https://discord.gg/y9rsrUc
36C3 live streaming
During the CTF event we will be showing on the big screen of the Chill area the 36C3 talks as they happen.
Related Posts: